Experience / Resume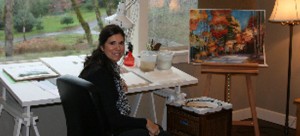 Gina Comelli Locke is a young emerging artist who lives in Portland, Oregon. Her work has been commended for its bold style and its evidence of her flair for color. Locke has studied watercolors for over 22 years. She has studied under Martha Manns, NWS; Tom Allen, NWS; Jan Kunz, Susan Mckinnon,NWS; and Judy Morris, NWS. Locke's business, Gina Locke Watercolors, markets originals and reproductions in the form of fine art lithographs, giclee prints, and greeting cards.
Awards
"Steel Bridge" shown in Northwest Watercolor Society 72nd Annual International Open Exhibition in Seattle, WA., Spring 2012
"Steel Bridge" shown in Western Federation of Watercolor Society Exhibition in Albuquerque, NM. Spring 2011
"Shadow Bike" shown in WFWS Exhibition in Salt Lake City Utah, Spring 2010
"In Bloom" shown in the Watercolor Society of Oregon 2011 Fall show in Sunriver
"Steel Bridge" shown in WSO 2010 Spring show in Salem, Or.
"Ebb and Flow" shown in WSO 2009 Spring show in Astoria, Or.
"Shadow Bike" Award of Distinction in WSO 2009 Fall show in McMinnville, Or.
Associations
Member of the Watercolor Society of Oregon
Member of the Northwest Watercolor Society
Member of the Western Federation of Watercolors
Personal
Gina Locke lives in Happy Valley, Oregon with her husband and two children. She teaches watercolor classes to adults and children in her home studio.